Our Top Five Kauai Beaches
Kauai boasts more sandy beach than any other Hawaiian island. 50 miles of beach are waiting for your enjoyment. Some of you may opt to stroll, others may wish to lounge on a beach towel, while we know others of you will bring your board. Whatever you choose, please be mindful of currents, undertows and high surf conditions. View the surf report for Kauai.
As with all Hawaiian islands, on Kauai, summertime surfing waves are found at the south end of the island, and are strongest during winter on the north shore. Snorkelers prefer the calm of the south shore in winter, and head north in the summer.
We've listed 5 of the most talked about beaches on Kauai-- ones that we also enjoy.
Anini Beach
Haena Beach and Tunnels
Hanalei Beach
Kalapaki Beach
Poipu Beach Park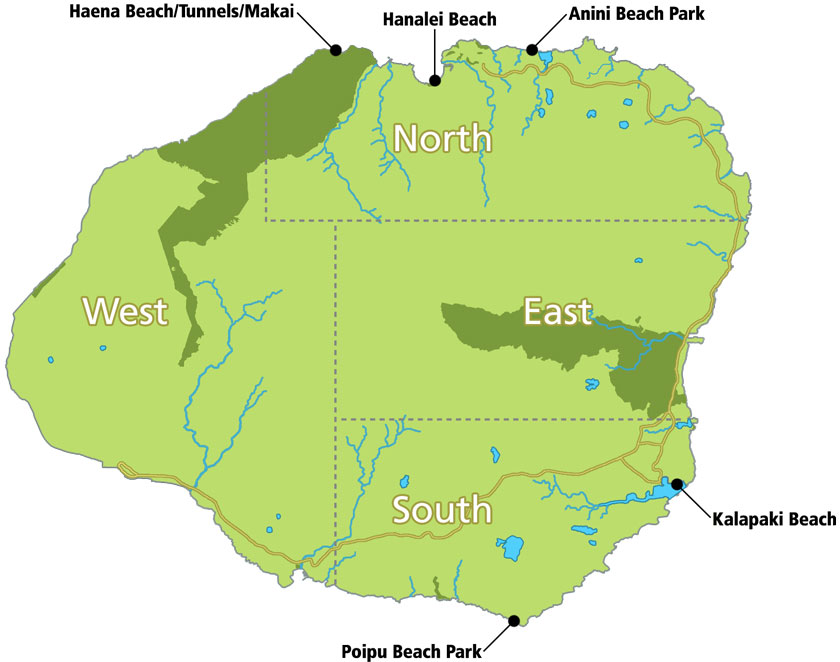 Poipu Beach Park (South Shore)
The Travel Channel lists Poipu Beach Park as "one of the world's best beaches". While not the longest beach on Kauai (about 1,000 feet), the water here is famous for its year-round crystal clarity.
This family-friendly beach is actually two beaches. The left side is protected, calm, and welcoming for children, while the right side has a bit more surf that invites swimmers, snorkelers and surfers.
This is a fun beach for boogie boarding. It's a great place to gaze into tide pools. Divers love the reefs.
Lifeguards are on duty at Poipu Beach Park. There are picnic facilities, showers and pavilions.
Be sure to watch for, and stay back from, the endangered Hawaiian Monk Seals who frequent this beach.

Hanalei Beach (North Shore)
Hanalei Bay, located east of Princeville in the town of Hanalei, was named "Number One Beach in America" by "Dr. Beach", Stephen P. Leatherman.
This is a picturesque two mile long, crescent-shaped bay of white sand and aqua water with coral reefs at its boundaries. In the middle of the bay is another coral reef and sunken ship.
Depending on the time of year, the beach can be crowded, or quite empty.
During summer, the bay is calm and an ideal family destination. It's a great place to boogie-board, fish, windsurf, canoe, paddle, kayak and boat. Divers and snorkelers love the bay. But, in winter, this is the playground of surfers who flock here to enjoy high surf. Regardless of season, the scenery here photographs like postcards.
For convenience and safety, there are restrooms, a pavilion and lifeguards on duty.

Anini Beach Park (North Shore)
This beach was once called Wanini, but the "W" disappeared from the sign and the shortened name has remained. Trip Advisor Travelers give Anini Beach Park 4 ½ stars out of 5. With over 2 miles of gold-white sand beach, this is a wonderful blue lagoon for family exploring. Summertime is a great time to beach-comb, swim, dive and windsurf. Beginning snorkelers welcome the calm waters around the reef as they learn to "breathe".
The facilities at the park include showers and restrooms. There are no lifeguards.
Camping with permit is popular. Plan to rise early to the crow of resident chickens.

Haena Beach/Tunnels/Makai (North Shore)
Travel websites love to rave about the summer snorkeling available at this beach with "best", "ultimate", "postcard scenery" and "abundant marine life". Keep in mind that this is a beautiful summer destination for swimming and snorkeling. Surfers take advantage of the giant winter waves.
This is a 2-mile long stretch of golden sand known for its clear, aqua ocean water. A crescent-shaped reef about ⅛ mile off shore is famous for its sea-life.
Parking is limited here so plan to park at a neighboring beach and walk, if necessary.
Area facilities include picnic tables, showers and restrooms.

Kalapaki Beach (East Side)
US News Travel selected Kalapaki Beach #4 in "Best Things To Do In Kauai". The setting is beautiful yet close to the island's largest town, Lihue. It's a perfect destination for those who don't want to pack a picnic or drive very far to enjoy the beach. Kalapaki Beach is a very beautiful secret that is overlooked by most visitors. This is probably due to a lack of signs and promotion. The golden sand beach is a gem that should not be missed. The beach is found in front of Kauai Marriott Resort and Beach Club. Protected by a jetty, the ¼- mile crescent-shaped beach is perfect for sunbathing, (winter) surfing , kayaking and swimming. The beach is usually uncrowded. Perhaps the most inviting aspect of this beach is that it lies within close proximity to restaurants, shopping and entertainment. You may even see a cruise ship passing beyond the shore.